In December 2007 I have bought a Santa Cruz Nomad. It was a bike that embodied everything I ever desired - ultimate versatility, a true do-it all bike, a bike that I can take to any place on the planet and have fun on it. Quite honestly it did just that for those years, I was very happy with it's performance and it looked fantastic. It was a dream bike, I dreamed about since I started riding in 2001. But a lot has changed since 2007, the bike went through two complete transformations in componentry tailoring it more and more to how I used to ride. Last year I came to a point when I decided that I need a new frame.
Nomad felt just too big in terms of how much travel it had, and at the same time too small, or rather, too short. I wanted a longish trail bike in the 120-140mm range but I was finding it hard to motivate such a spend when in fact Nomad was just delivering on every task. In one of GAS* attacks of I asked for Banshee Spitfire, Yeti ASR-5 and Santa Cruz Blur Tr. It happened that due to 650B frenzy Santa was throwing all 26" stocks out of the window for half price and I ended up with this great bike in carbon version to top it all. The Nomad wasn't the only victim of the new purchase, I also sold my 29er HT to finance the new purchase, as the big wheels seemed too clumsy for my trails as well.
Before I begin I would like to say a bit about the testing ground. I strongly believe that it is impossible to provide information about how a bike rides when it is tested in conditions completely different to what a potentil buyer might experience. I find it quite funny to see so many bikes tested in the desert dry Sedona while most of us ride in a total opposite of those conditions. To make it quick, trails around Göteborg in south western sweden are set upon hills reaching no more than 120m above sea level. Altitude changes tend to be dramatic with short but steep uphills and downhills. The surface is covered with many rocks and roots, mud pools are everywhere. Speeds are relatively low, there are plenty of tight turns, nimbleness and the acceleration are the key - and this is why 26" wheels are just better in here.
HERE
you can find a video by
Hillside Cycling
showing the trails the Blur was tested on.
Bike Build highlights:
Frame: 2011 Santa Cruz Blur TRc with Fox Float CTD Factory shock
Fork: Fox 32 Float Fit RLT 140mm QR15
Wheels: Mavic Crossmax ST
Tyres: Specialized Butcher/Purgatory control
Drivetrain: 1x10, Sram X0/X9 type2, 11-36 cassette, 32t-34t chain ring
Brakes: Shimano Saint
Other: 720mm bars, 50mm stem, Rock Shox Reverb dropper, flat pedals
On the local trails
The first thing I noticed was how wonderful it is to have a longer bike. Better range of movement allowed me to move over the bike more land somehow on the rougher bits bike felt like it had more freedom to do it's own thing under me. Second thing was the feedback. Oh yes! Everything became slightly rougher but, at the same time I was getting more out of my efforts. Every pump of the bulge in the terrain or the backside of a rock or a root was delivering the noticable acceleration, something I did not felt through the uber plush travel of the Nomad. That was also thanks to the super light wheels, but the frame provided a great support by having minimal squat. This bike just makes you look for backsides, for opportunities to pump - no more Mr sloppy - you do it not because you feel you should, you do it because it's fun! Once, while following my friend on a slippery uphill I even found myself pumping the ground in places where he slid a bit. Bike is very easy to pop and pick up into the air, it just loves occasional air time. At first the bike felt too slack but I realized very soon that it is a good thing - not on the downhills though, on the uphills! It forced me to stand up on pedals more often, to get back the balance and prevent the bike from tipping and keep the front wheel pointing where I want it to go, instead of wandering around like a drunk donkey. I've found it as beneficial as changing to single ring setup - at first it feels dumb and not optimal to run something that makes the uphills harder, but if in time, that thing makes you sprint more often and makes you stronger as a result then hey - give it to me! I even got motivated to switch chain ring for the bigger one which only did me a lot of good! So I was really pleased with the Blur TR and after a month I was sure that I made a good choice, that was no post-purchase rationalization.
A small note on the carbon here. I would really have to try the aluminium one to say if it gives me something apart from how light it feels when I lift it on the parking lot. When I ride some downhill section or climb with 190+ pulse, I really don't care if my bike is a 1kg lighter or heavier - I need to get THERE and it is mainly me that does it, not the bike. A thing that I love about the carbon on this bike is that it looks like carbonf fibre not like cheap plastic. It's a bit glossy and you can see some carbon imitation under the clear coat. The first time I saw the matte black carbon Nomad of my friend I thought to myself: if I'd pay so much money for something that look that cheap, I'd be pissed off...
In the Mountains
In September I went to Hafjell to ride and watch the World Cup. That was a great test for the bike: how will it handle riding in the WC DH terrain, in the proper shit. Iswapped the 32 Float with my good old Lyrik DH and I've put on my favorite Minions DHF on the bombproof Shimano XT AM wheels. I did miss the Nomad on the really rough bits, no doubts about it, but my hardtail past allowed me to have some confidence. Such tough trails as the Black one from the top station, which physicaly seems to me harder than the WC track, is not my piece of cake anyways, I hated it on the Nomad as well - maybe I will appreciate on a downhill bike one day. I have plenty of rocks and roots on my trails and I went there to have something I don't have at home: jumps and berms! My focus was the machine dug trails which are awesome in Hafjell. The slacker geometry and the longer front end kept me confident, in fact the Blur felt better than the Nomad! I assume it would be a bit less forgiving if anything happened but hey - I can do a thing or two aye? And I ride in my comfort zone... There was really nothing to worry about. Blur surprised me on the Boulder Trail which is a mixture of a natural rocky trail and machine dug sections. Thanks to shorter suspension all I needed to do on some rocks was just either tense or relax my feet to remain smooth. I was getting the perfect amount of feedback, while on the Nomad I was thrown forward sometimes when I was running out of rear wheel travel. An issue of skills off course, but Blur seems to be a good match for those I have!
Here's a video of me riding in Hafjell, thanks to Piotrek Kabat for filming and patience while following
The BADs
There are three things I did not like about the Blur though. First of them is the Fox Float CTD shock and that is a big bummer. I used to have no problem with setting up suspension on the Nomad but until this day, on my home trails, the front and rear just don't cooperate with each other, despite being, hypothetically, a perfect match. The only place where the suspension felt balanced was Hafjell. However even there, I did not use the full travel. Settings on the shock are pretty useless, they make the bike either too stiff on C setting, too plush on DH setting and kind of whatever on all 3 intermediate settings. I will send it to TF Tuned for PUSHing or buy CC Double Barrel Air. Ironicaly the Nomad with Pushed RP23 Float seemed more efficient despite having 30% more travel. The second thing I don't like about the Blur TRc is that I like long bikes and TRc is long for me only because i bought a Large which as a side effect has a really long seat tube, giving me exactly enough room to mount a 125mm Reverb, so I wish it was at least 5mm shorter. That is the very reason why I sold Nomad - If I had it in Large I would be still probably riding it. I will treat it as a matter of taste though, for instance the Yeti Cycles, SB66 and ASR5 look best on the paper for me. The third and the last thing is the VPP2 system. Santa Cruz used to rave about the pivot point locations providing certain frame rates doing wonders for you. Well pivot location is not just about that, it is also about where do they sit in the frame in relation to the real world and all the latest SC bikes have their lower bearings in the swing arm hanging like old dogs balls. And so it happened, on one of the uphills I was rolling onto a rock step and I hit it with that piece of the swing arm around the lower bearings. A 3mm thick piece of carbon chipped off exposing the bearing bore. It might be just the outer layer but still. When in Hafjell, I asked the SC Syndicate mechanic and he told me that it is a common thing and that I should run a larger Taco or Bash ring. He added that if anything happens that is off course a case for a warranty return.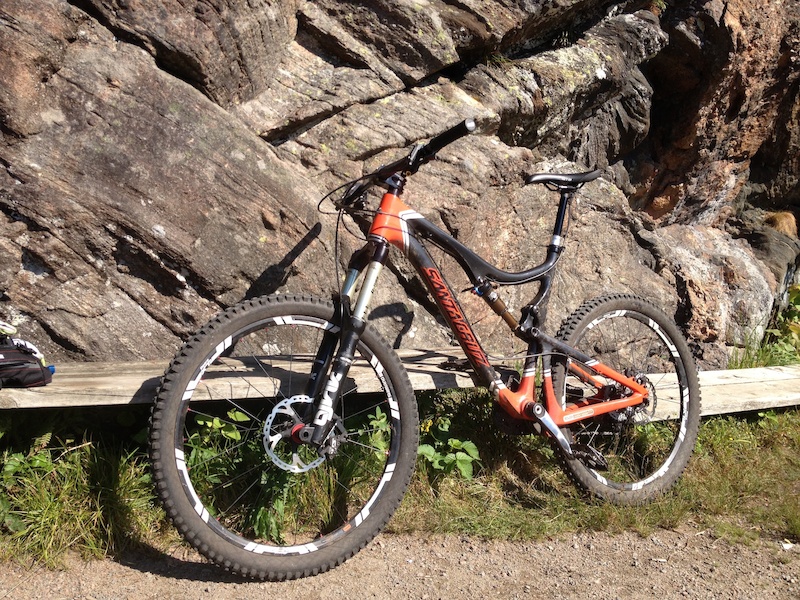 Hafjell Setup
To end up I would like to turn this "review" into a question: "How small bike is actually big enough?" The 120mm trail bike like my Blur is the best possible choice for the trails I have around, but it has also proven itself to be capable of delivering in the proper mountains, to some degree even on the gnarliest tracks. Then it provides plenty of fun on machine dug A-line kind of trails. Back in 2007 when I was buying Nomad my friends were telling me that I will break it, that it is too weak - nothing ever happened. I was a bit afraid myself about the Blur, but after repeatedly casing 6m+ jumps in Hafjell I have no more doubts that 2.2kg carbon frame can take a lot of beating. Tiding feels just a bit more authentic when you feel the terrain more. If you worry about riding them in the big mountains, then you can always rent a downhill bike! I think that Enduro World Series has also opened the eyes of many people that evern the harshest terrain can be handled on a "small bike" as according to Steve Jones from DirtMag, some of those Enduro tracks were gnarlier than what you find in Downhill racing.
If you are a person that cannot leave a single stone on the trail alone and if you don't live in the mountains and want to squeeze every single juice out of your trails, then the Blur TR is a perfect bike for you. Pull it - Pop it - Push it - Pump it - Pin it and Doo eet agaeyne!
P.S. Thank you my dear Nomad, we've had some great times together in some wonderful places, after all, you have never let me down!
Cheers!
Arguably Yours: Wacek
Previous Waki-test:
Roubaix Stumpjumper 29 Evo