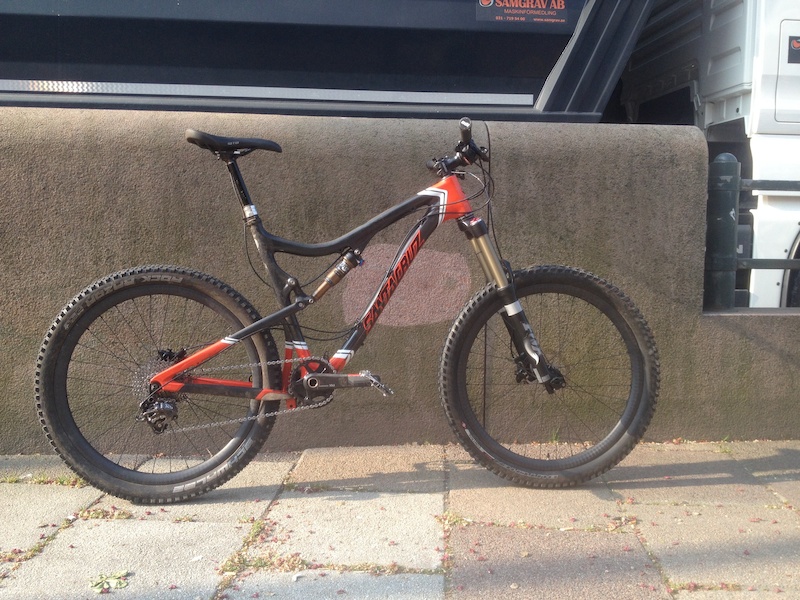 I am repeating this very often: A great bike is about the whole package, geometry and components, you cannot take one thing out of the formula and make it a deciding factor, sometimes a supposedly positive change can require more than one component replacement for the package to feel right. Things can get unbalanced. Then another mantra is that and everything in MTB is very subjective. Just because something feels fast it does not mean it is fast, and symmetricaly if something feels slow it doesn't mean it is slow. The first ride impression on those wheels have proved those points. Here is the review of the recent rims form Light Bicycle.
I laced them to vibrant Hope PRO II Evo hubs, using super light aerospokes from Pillar and DT Pro-lock 12mm nipples. Total weight came down to 1510g with 20mm front and 135x10QR with out the quick release. It was a bit of an effort to build the wheels using aluminium nipples as the rims are so Go'deamm stiff and high in profile. I wasted 6 nipples in the process. The tyre bead is shallow, making it a true pain in the arse to put the tyre on. You really need to muscle with it and carbon is not a material that likes tyre levers. But at the same time maybe that is the reason why I can inflate those tyres as tubeless using only floor pump, a treat not doable with any UST Mavics or Shimano XT AMs I had. The rims are Hookless and it works just fine, time for all rims to be this way to shave weight. Internal diameter on those rims is 27-28mm and the outer is 33mm.
Picture from light-bicycle website
I wasn't entirely positive after riding my favourite Blue Berry trail on them for the first time. The wheels felt sluggish and too stiff, comparing to my previous super wheels, the Mavic Crossmax STs. You just don't feel the acceleration as well as on Mavics. But this off course is a subjective nonsense becaue the rims weigh the same or even less. IN corners the bike felt better right away thanks to the wider profile. I went from 1.7-1.8bar on Mavics to 1.5bar on LBs. If I knew I will ride a bit rougher and faster trails I had to pump tyres on Mavics to even 2bar and the tyres still felt slightly wobbly, LB wides stay stable, bike does not get unsettled with any lean into the corner or rock in the rockgarden. But still , something just wasn't right, the new wheels felt heavish. It wasn't until I changed the fork from Fox Float 32 RLC to a stiffer and more stable 36 RC2 Van for everything to click, for the hell to be unleashed. I took the bike to one of the fastest trails we have around, that requires a lot of muscle power if you want to keep the speed up. The bike just rails turns and changes directions like a velociraptor, there is no other word that describes the feeling of riding the bike than: IMPUNITY. You don't point and shoot, you point and make things explode. At all times the tyres seem to stay right, the feeling is almost as if I was riding 2ply tyres. When both wheels slide the slide more predictably than on Mavics. Also after the change to FOX 36, the whole bike became super stiff, so now the wheels feel fast again. THe acceleration is not as percieveable as on Mavics but it feels great anyways. They perform well on the hardtail as well, I do feel them to be less compliant, but the increased tyre stability pays back big time so well, no issues here.
To me it boils down to one thing: is it worth it? Those rims cost a lot, and yet it is still a fraction of the price of luxurious, exclusive designer stuff like ENVE.What are the other options? The closest you get is the new breed of trail/AM rims like WTB KOM, Superstar Tactic or Pacenti TL28. Then you can aim a bit higher but at a slight weight penalty, by choosing WTB Frequency i25, ZTR Flow EX and Pacenti DL31. I must mention one thing here about the weight. WTF warning: The biggest factor in performance is you. I could have 100g rims and I would still suck if not the discovery of thigh massage (no pun intended). I had sore quads for few months after I started strenght training and sprints. Then I learned that quads cannot be stretched, they can only be massaged to remove the "whatever that lactic acid related thing is called". So I massage my quads every evening, and on the trail I am a rocket. Well it did me wonders... so make sure you are fine before you look for problems in your bike :)
Anyways, here's the bottom line: Light Bicycle is a great company, their customer service is incredible, the product looks great, hookless works, raised bead hype is true, wide rim profile hype is true - is carbon worth the price? Not that sure about that. While I ma sure you can utilize the positives of carbon on an aggro 29er like Enduro 29 or Tallboy LT, I think if you ride a 26" bike you are not missing that much as the tyres can have much bigger impact on your rolling speed and acceleration.
Arguably yours
Wacek