I often wonder can there be any surprise when reading a test of a top-end bike? How spoiled would you have to be to ditch a 5000s + bike, carbon here, carbon there, golden stanchions and XTR all over. Journalists may seem hard to trust once you heard of the concept of reciprocity - when you recieve a sweet bike for a test for free, it's hard to be a bastard about it. I'm not journalist and I am not sponsored, so let me have my "independent" take on a super bike... wait! I got it to test for free... I can't even trust myself!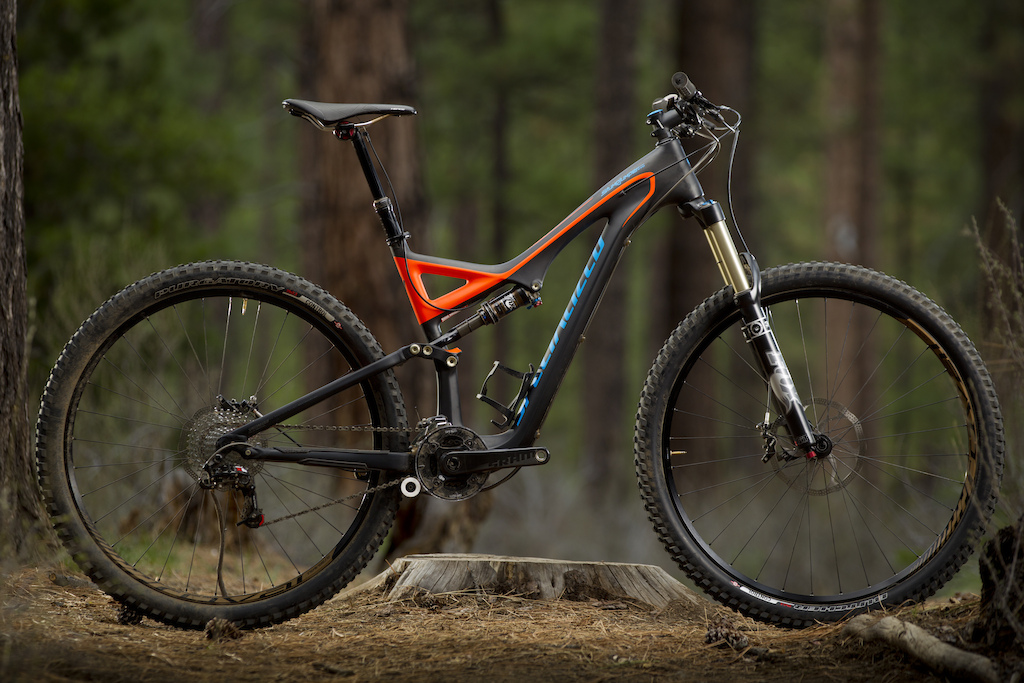 picture source: Pinkbike.com
This fall I went to London for a study trip with my architectural office and I decided to take a chance to meet Steve Jones from Dirt Magazine while being on the other side fo the pond. We chatted online since some time and I wanted to show myself in my Offline form, I wanted to meet a man who might be Jeremy Clarkson of MTB world. He welcomed me to his house in pictoresque Welsh village near Monmouth, with beautiful view over the hills and... a garden filled with super bikes. Initialy I was supposed to ride the latest LaPierre Spicy 650B with electronic suspension but there was no way to quickly swap brake levers (Brits ride them on the "wrong" side...) Steve is kind of my size and weight so I felt no need to play with air pressures or compression settings, even though he urged me to. I took it for granted that the bike will be well setup because it was his personal bike, he can surely ride well as has a decent race record, then he's been through various test camps with world's best bicycle suspension engineers, and he tested countless bikes.
Setup highlights
Frame: Specialized Stumpjumper 29 Evo carbon
Wheels: Spec Roval carbon
Tyres: Maxxis Highroller 2 -1ply
Fork: Rockshox Pike RCT3
Brakes: Avid X0 Trail
Drivetrain: 2x10 Avid X0
Other: Flat pedals, wide bars, 35mm stem, Command post dropper.
The initial parking lot test was already quite positive, bike turned easily and seemed to remain balanced in S-turns when guided just with my hips. I noticed that my assumption that 29ers really need carbon wheels was right. That bike did accelerate well unlike a Niner EMD9 that I used to have with 600g WTB rims. Because the weight is on a larger diameter you do feel the increased rotating mass on 29ers much more than on 26ers. An interesting thing is that Steve uses 35mm stem on it, which I think does wonders to handling of a "big bike" which has plenty of intrinsic stability due to BB drop and large wheelbase, compared to 26er. Add slackish Evo geometry and at least on paper, it seems like you are going to ride a cow.
So we headed to the woods where I've got slightly raped by Welsh mud or rather clay. I've seen mud but this was slip and slide in places. On the first trail bike felt easy to manouver, but it was the second much more flowy one, where my eye balls crossed and my face formed into the "Me gusta" meme. I always found that line to be a bullshit, but here I am saying it: it did not feel like a 29er at all! At least nothing like my Niner. It was nimble and quite easy to pop - not as much as 26er but still, I was impressed. As I thought, more altitude drop than my home trails, more speed, and a bit more room between rocks and roots, give such bike enough wings to show it's potential. The thing that was most apparent to me was that it seemed that Stumpy Evo had a mind of its own, it was kind of having a bit of control. There were two bits where I thought, whoops a jump, or whoops I will wash out the rear end, but the bike kind of said - I got you covered mate! It was a truly forgiving bike. I'm not a control freak so I really liked that, especially that every time I wanted to gain control I had it. It might sound queer but it was a bit like dancing with a smart girl and I never felt that way on any bike before. It felt so smooth, the memory of sensation of floating was with me for few days after. Going uphill was a breeze too, it felt like I had wind into my back (another 29er cliché), something I never felt on my Niner and not even on my 26" Blur TRc super bike.
That puts me to a conclusion that it is very true that it is not about the wheel diameter, it is about a bike as complete package. Stumpy 29 Evo is a damn good bike that I would die to try on my home trails. If I were to move to bigger mountains, I'd swap my Blur for this without a wink of an eye. I guess I am spoiled.I'm glad I remained open minded. So in a way I was not surprised that Stumpy Evo 29 turned out to be a great bike but it completely surprised me in which way it was great. I found a new dimension of bike handling and at the same time I cannot find too much relation to lots nonsense that is written about advantages of 29" wheels. It was just a great, smart bike with a character!
The all important question, do we need super bikes to improve our riding experience? They help! But to pay compliment to Steve and his trails, I'd remember that as a great trip even if I rode my Diamond Back traverse stiffie, and I really mean it. Experience of riding in a new place was just fantastic!
/Cheers
Wacek