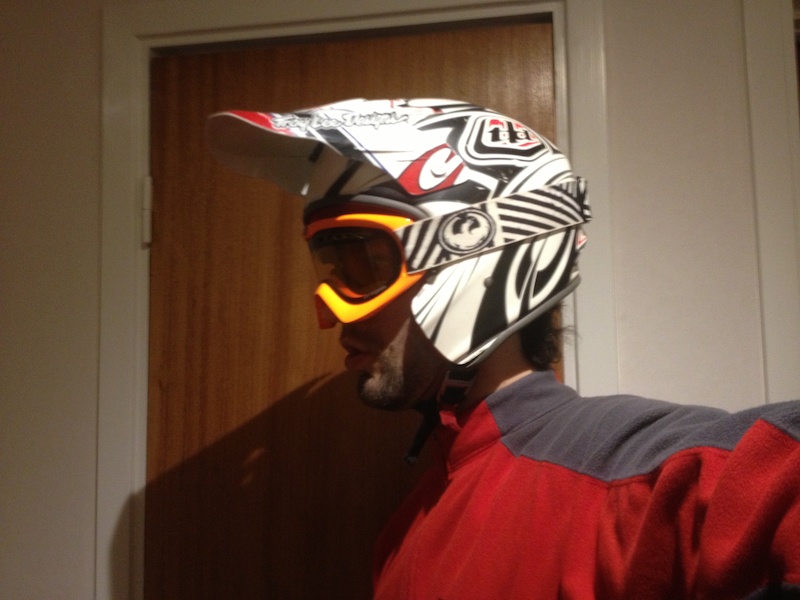 I believe the World has it's way of balancing itself. Surplus causes vomit, uniformity rebellion, deficit creates need - as simple as that. (Modern) Enduro is burning real hard these days, and it was inevitable, because this kind of riding was close to most MTBers heart, no matter the place on earth. It's been there rising, like a magma chamber under a volcano, large races were there, bikes were pretty much there, but it was the Enduro World Series that caused the eruption. It gave the worldwide phenomenon status to it, it pinned it's identity, allowing everyone to feel proud of having a bike that is no longer a smaller penis of DH racer. More and more people feel that getting 6" bike is the most reasonable choice one can make when buying a new bike. While complete DH race pyjamas from TLD made you stand out until everyone in the line to the lift looked like Sam Hill or Steve Peat, the new breed of bicycle clothing got born manifesting itself in rather solid yet colorful, unmatching kits, padding and XC helmets, DH helmets and soft padding - mix of cultures that is, fun-freaking-tasteic!
But it may burn away sooner than people think, even sun has limited energy, just like downhill kind of did when tracks got ironed out. Looking at what people ride in the bike parks, one may get an idea that Downhill racing may soon become spectators sport. Enduro World Series has set free the action, but it started the decay of it's spirit. Enduroing stole the virginity from Enduro or AM if you like. It felt like loving that new edgy band and suddenly they started playing it on the radio. Some thought yea finaly those sheep caught up with me, some thought: oh no they will ruin it for me by playing it on and on... Going up with buddies and chasing each other on way down got serious. The clock ticks. What is important here is that all this coincided with raise of popularity of Strava. You don't have to go to Enduro race to Enduro your time. You can race on every ride by signing up with Facebook. Then technology got serious as well, optimization is the word in tech world in 2014 - 650B creates a tiny difference, one that should give edge to the racer and I believe it does. Serious about racing 29ers theoretically made love to that 26" bastard that nobody wanted in 80s but was forced to adopt. Oh how horrible! If founding fathers succeeded, if Gary Fisher got the tyres he wanted back in the days, Wade Simmons would be hucking that massive road gap in NWD over a pick up tr
u
ck on a 29er with Super Monster that would be even more Monstrous. Just think how great it would be... Thank Holy Science, Kirk Pacenti saved us all! Wait... even freeride got serious. Our idols are really competing hard against each other. We all know what can happen if Aggy or Zink mess it up on next Rampage.
So here we have it: Enduro 275 - burnin'! It will be perfectly normal for the trend to saturate and show signs of unification. Once enough people notice that almost every mountain biker rides pretty much the same kind of bike, that wearing random kits is not really making them different or happier, the world will start changing. Again. Same people who were throwing "why are you so affraid of change" at faces of sceptics will be clenching on to the style they felt was so sensible to follow. It is them who will be told to ride cantilevers if they think it was better as it was before. Even if we take fashion aside, even if we strike out eventual posers and wannabies, people will be simply tired of hearing same song on the radio, no matter how many remixes industry will provide - people will be hungry for a new hit, new genre! Bikes are subjects to us who decide how well they can dance, that makes them rather simple machines. Bikes can't scrub, you can or can't. Mike Levy pointed out in his article, that the evolution of MTB technology slowed down and we may not see any more breakthroughs, ever - only small adjustments. I don't find it sad at all that record company called MTB Industry will not get many new instruments. Aria di Enduro in all it's forms is not the only thing you can play in it... we can create many more tunes using existing gear. People will also want their lost virginity back! The ticking clock took it! Sooner or later, we shall strive for innocence, fun of riding a bike like nobody is watching! Will it have 26" wheels? Maybe it will have 4,5" tyres? Maybe it will be a Ti hardtail, more expensive than S-Works Enduro 29? One thing is sure, the Age of Reason will collapse under it's own weight or explode under the pressure it generates. It will still be there, "The system" will always be there, we will always see racing as point of reference.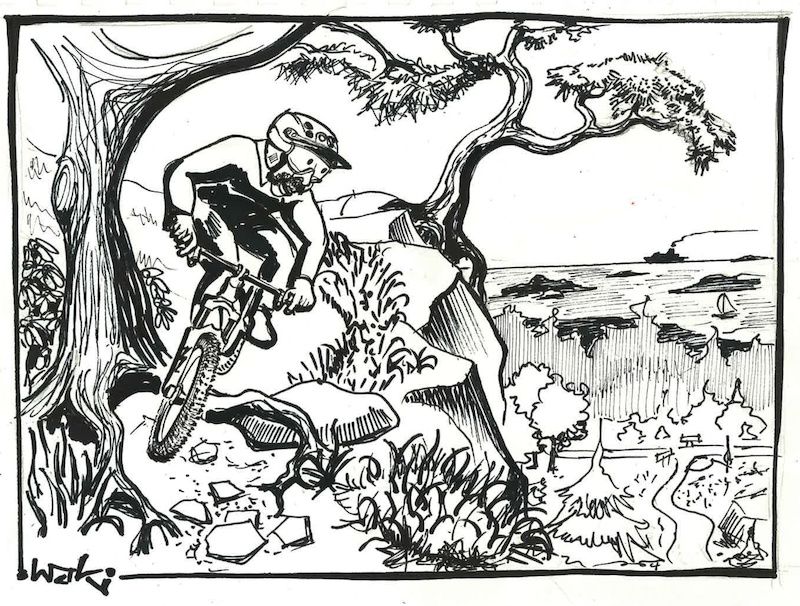 There is one last piece of land in MTB, unharvested by big business, that has not yet been to the "Hype pipe" - short travel trail bikes. I see a particular vibe towards those on the internet. People bash a niche genre of 100-120 bikes saying: why would you buy a bike with less travel that weighs and costs the same as a "proper" 160-170mm bike"? I smell it in the air... again. In 2008 when I was buying a Santa Cruz Nomad, a machine truly ahead of it's time, I was told that it is pointless, too weak for that much travel and as expensive as a good DH frame. One thing was disturbing: I had same sort of gear on it as I had on my Cannondale Gemini DH Replica, but the fork. It is analogical these days. The gear on 100-120mm aggresive trail bikes is the same as on 170mm Enduro monsters, geometries are nearly identical. I could literaly take all the stuff from my Blur TRc frame and put it on latest Nomad, just upping the wheel size using same types rims and tyres. There is a difference between Nomad and Blur TR though... taste. The worshipers of "Age of reason", as I like to call the current era in MTB, are missing one important point: bikes can be seen as pieces of art, like music. Bike companies are bands and their models are songs, which are provided in remixed and remastered versions. One may like a song or not. Short travel bike provides more feedback from the ground, the more you pump or accelerate the more rewarding it feels, they squeeze different juices out of every trail. Bikes like Commencal Meta hip hop, Banshee Phantom, Kona Process 134, Blur TR get critique for being aimed at no one. If you ask me, that is a sign that they are ahead of their times. Just like Specialized SX Trail was criticized until Darren Berrecloth and the lads from The Collective put together one of most iconic segments in MTB movie history.
Make no mistake, I am sold on the concept of big wheels, but short travel bikes and 26ers will have their time, maybe in a small scale, but they will. People in marketing will propel the obvious side of the coin that small wheels accelerate faster. Fatbikes will get their share of fun in riders' hearts. It will all be a farse off course, because nothing is stopping us from having as much fun on a dialed 29er as on a dialed 26er... you are the limit. So let's enjoy tunes we like no matter which festival drops by our town, don't look down, look ahead, chin up ;)
Arguably yours
Wacek Kipszak Waki